Let your business be found on Google today
Be seen by customers at the very moment they're searching on Google for the things you offer. Also, we will give you RM150 in ad credit when you spend RM50*.
Start today and get free in ad credit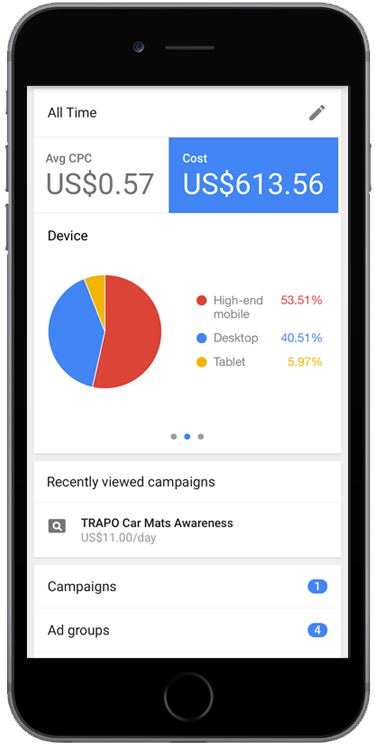 Reach the right people at the right time
Your business or website gets found by people on Google precisely when they're searching for the things that you offer.
Whether you're looking to bring in new website visitors, grow online sales, get the phones ringing or keep customers coming back for more, Google AdWords can help.
Advertise locally or globally
Target your advertisement to customers in certain countries (etc Singapore / Indonesia), regions (etc Kuala Lumpur / Jakarta) or cities – or within a set distance from your business or shop.
You only pay when someone clicks your advertisement to visit your website, or calls you. In other words, when your advertising is working.
PAKO® would recommend on how much you need to advertise. We could begin with a daily budget that you're comfortable with, then adjust as you go. Many businesses get off to a good start with a budget of at least RM20 – RM40 a day
If you need us, we're here
PAKO® manages your advertisement campaign on behalf, or you can call us for free advise at 1700 81 7685. We could even meet up at your preferred place** and discuss.
** Available in Penang, Selangor, Kuala Lumpur, Seremban, Malacca, and Singapore Only
Why PAKO®?
PAKO® is a Certified Google Partner in Malaysia and has qualifications and expertise required to manage AdWords campaigns effectively. Our team can not only setup Google AdWords for you but can also provide auditing for businesses that are already using this application. We provide comprehensive and extensive analysis of your current AdWords account to provide you with important actionable information. This information can then be used for boosting your results, reach and return on investments through your Google AdWords campaign.
Requirement
Landing Page – A website or webpage that is specifically designed for your advertising campaign and optimized for more conversion based on Google AdWords guideline.
Google Account – A Gmail account is required in order to access Google AdWords platform, we recommend a Business Gmail account to fully enjoy Google AdWords.
*Terms and conditions for this offer:
You are eligible for promotional credit if you are new to Google AdWords and have a Google AdWords account which is less than 14 days old.

In order to activate this offer, PAKO® will enter the promotional code through the Google Partner Account Dashboard into your account.

To qualify for the promotional credit you must accrue advertising charges to the amount of RM50 within 31 days (taxes may apply).

Your account must be successfully billed by Google AdWords and remain in good standing in order to qualify for a promotional credit.

The promotional credit will be applied within approximately 5 days of your account reaching the threshold for accrued advertising charges specified above, as long as you've activated your account and fulfilled all requirements stated in the offer.